How to choose this product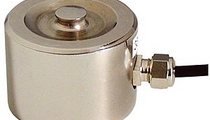 Compression load cells are used to convert a compression force into an electrical signal. They allow the user to measure and control the applied compression forces.
Applications
Compression load cells can be found in many industrial applications where force needs to be controlled. Hydraulic presses use them to control the maximum force applied to the stamped part. They are also integrated into weighing silos in order to measure the amount of raw material entering or exiting the silo. They can be incorporated into many structures to measure critical force.
Technologies
The most common type of compression load cell is the strain-gauge load cell. As the gauge is deformed under compression, its resistance increases or decreases, causing the signal to vary proportionally.
How to choose
It is important to specify the maximum and minimum load requirements of your application when selecting a compression load cell.
Advantages
- Many configurations
Disadvantages
- Side loads