How to choose this product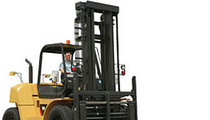 A diesel forklift truck rides on a three or four wheels and has forks attached to a hydraulic mast. It is powered by a diesel engine, generally situated at the rear to help counterbalance the load. The forklift is used to transport and handle heavy objects in an outdoor environment.
Applications
Diesel forklifts are generally used for exterior applications and can transport heavy loads. They are regularly used in the loading and unloading of goods for manufacturing and warehousing.
Technologies
The diesel engine situated at the rear of the truck helps to counterbalance the goods to be handled. The manipulating forks are situated at the front and can move horizontally and vertically. They are mounted on a hydraulic mast powered by the diesel engine. Forklifts have three or four wheels and rear-wheel steering.
Advantages
- Transport of heavy material
- Control under extreme conditions