How to choose this product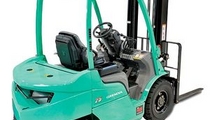 Engine powered forklift trucks are used for numerous material transportation applications. With a wheel base set-up of either 3 or 4 wheels the truck is directed by the rear wheel(s). The engine is situated on the back of the truck to aid counterbalance the weight to be transported on the front forks. The front forks located on the mast are hydraulically moved in an upward and downward direction.
Applications
These type of trucks can be used for many different applications from manufacturing and warehouse industries, to marine and military industries. Engine powered forklift trucks are widely suited to outdoor activities due to their superior autonomy and toxic emissions.
Technologies
The trucks are available with a 3 or 4 wheel base with front wheel drive and rear wheel direction. The forks can be maneuvred in a vertical and horizontal direction.
The forklifts are available in diesel, LPG, petrol and hybrid.
How to choose
The choice depends on the application required for the forklift and whether the use is internal or external.
Advantages
- Functions at high speed
- Carry heavy loads
- Versatility under extreme conditions
Disadvantages
- Noisy
- Expense to run