How to choose this product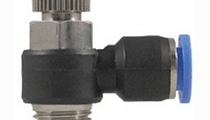 A flow regulator adjusts the volume of a fluid flowing through a system, either in constant or variable fashion, by altering the diameter of the conduit through which it flows. It is designed to supply a constant volume regardless of temperature or pressure.
Applications
Applications are many and varied, but more numerous for liquids than for gases. They are used to control rain run off and snow melt to avoid overloading drainage systems and sewage treatment plants, and to prevent flooding and erosion.
Technologies
The regulator comprises a control knob, diaphragms, a pressure compensator and, sometimes, a check valve, all in a housing. Some use a forced vortex system to regulate flow without the need for moving parts. The regulator operates according to the hydrostatic pressure and the flow, the fluid passing from gravity to vortex flow.
How to choose
Choice of flow regulator will depend on specific use, as well as the range of pressures and flow rates to be handled.
Advantages
- Flow control
- Safety