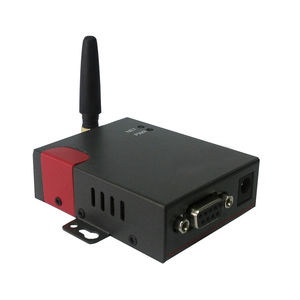 cellular gateway
CDMA, RS232/485/TTL to IP | D80C
The D80 CDMA serial to IP model is a cellular model that is developed specifically for M2M processes. It provides an RS-232, RS-485, RS-422, TTL interface and is equipped with PPP, DDP and TCP/IP protocols. The unit can convert user data ...

Device that allows to connect one or more MODBUS RTU TCP/IP device/s in a ETHERNET network.

Radio telemetry serial ASCII output gateway Drives displays, feeds data to data collections systems, loggers, printers, computers and PLCs etc Wide operating supply range User definable serial ASCII output Surface ...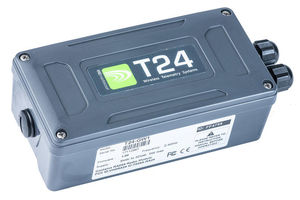 Modbus RTU or ASCII interface (RS232/RS485) Gathers data from up to 100 transmitters Stores data which can be requested by a Modbus system Quick and easy to install Wireless configuration Licence free 2.4 GHz radio Wireless range of ...

AMR gateway
max. 1000 m, IP67, IK8
The AMR Gateway from Adeunis RF is basically a hub that makes it possible to receive consumption data from meters and then transmit it to a GPRS network. The device can be used in unrelenting environments as well, thanks ...

The converter allows attaching Modbus RTU RS-232 and RS-485 devices in Ethernet. The converter acts as a ModbusTCP/RTU gateway, providing access to the serial devices using the standard Modbus RTU protocol. Up to 32 devices ...

The Ethernet-RS485 Gateway establishes the connection between the serial RS485 bus that typically features in LAP devices and Ethernet via 10/100 BASE-T. During this process, data that are available on the rS485 side ...

The Profibus-rS485 Gateway establishes the connection between the serial RS485 bus that typically features in LAP devices and Profibus DP. The module contains a communication controller to operate the ports and to execute ...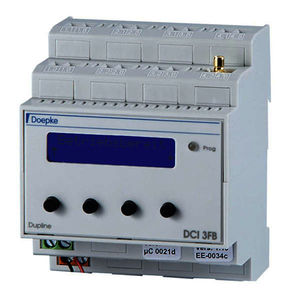 wireless gateway
max. 100 m | DCI 3FB
Building systems technology in very general terms comprises electrical and electronic equipment and automation devices for industrial, commercial and private buildings. These equipment and devices range from bell transformers to the Dupline ...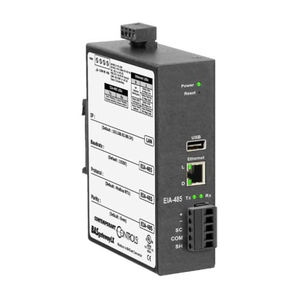 Modbus remains a popular network interface. It is commonly found on jobs such as boiler control, variable speed drives, and metering applications, but these devices lack BACnet compliance. To make Modbus devices appear as individual BACnet ...






Bidirectional gateway (with Ethernet interface) for sensors, switches and actuators, based on EnOcean technology and controllers, respectively control systems with Ethernet interface, incl. external receiving antenna 2,5m

WSN gateway
STC65-RS485 EVC
STC-65 (FTT, RS485 EVC, RS485 Modbus, MP Bus)Bidirectional gateway (with serial interface RS485, bidirectional interface Multiple Access) for sensors, switches and actuators, based on EnOcean technology and controllers, ...

Empfänger SRC-KNX EIB Bidiretional receiver with 32 channels, for connection of EasySens sensors and wireless switches to the EIB/KNX bus

SRC-DaliGateway between EasySens wireless switches and the Dali bus, for individual lighting control and call off of saved light scenes, incl. external receiving antenna 2,5m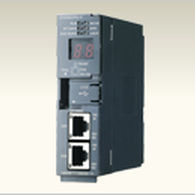 LAN gateway
e-F@ctory IoT
This appliance links automation systems to a cloud based data repository and reporting environment through existing LAN infrastructures.

Using digital Narrowband technology the 9160 G2 Wireless Gateway provides a robust and secure wireless connection for simple data applications across the largest, most expansive outdoor areas, minimizing infrastructure ...

DeviceNet gateway
SAI-AU PRO series
Many gateway I/O units are available. Choose between PROFIBUS-DP, DeviceNet, USB and the Ethernet dialects EtherNet/IP, Modbus TCP and PROFINET IO. The gateways have 16 digital inputs, the USB modul ...

• Slave mode supports 16 TCP masters and up to 62 serial slaves simultaneously • Master mode supports 32 TCP slaves simultaneously • Integrated Modbus protocol analysis • Redundant DC power supply inputs • Cascaded Ethernet ports for easy cabling

Ethernet gateway
LG series
... developing data collection hardware in-house. Battery-powered and mains-powered Sensor Modems and Serial, Ethernet, and Cellular Gateways LAN RF technologies include Wi-Fi, ZigBee Pro, WirelessHART, 802.15.4, and FHSS Sensor ...

serial gateway
Avocent® UMG series
The Avocent Universal Management Gateway is a unit that features a remote management setup that works in many locations from all kinds of vendors. This may be used in many secure areas and works with supportive technology ...

Ethernet gateway
N 143/01
IP Gateway KNX/BACnet BACnet Application Specific Controller (B-ASC) as Gateway between KNX TP and BACnet IP Up to 250 BACnet objects Up to 455 BACnet COV subscriptions Automatic translation ...

DIN rail gateway
N 141, N 141 series
... at least 10 sensors Integrated power supply with input voltage AC 110-240 V, 50-60 Hz or DC 120-240 V for powering the gateway electronics and DALI output Maximum DALI output voltage of 19 V, short circuit resistant Incorrect ...

This All-in-one gateway security appliance from ProSecure UTM series combines best of security technologies from Commtouch®, Mailshell™ and Sophos™ to produce a stream scanning technology to protect businesses against ...
See the other products
NETGEAR

The NETGEAR ProSecure UTM S Series provides various business owners and IT admins higher visibility and supervision over their systems. It also has the capability of securing their businesses from the advanced and modern applications, ...
See the other products
NETGEAR

... access to hardware is provided and secured with locks and readers assigned to the individuals IP address, by the latest CISCO Gateway . It provides simplified and distributed physical access and utilizes Power over Ethernet ...

If you are looking for a industrial gateway equipped with a standard RS232 communication interface, the CBX800 connectivity device may suit your needs. It allows connection of all possible devices to the most common fieldbus ...

These Gateway & Linking Devices is a particular network technology that can be easily connected from one technology to another. It features a non-seam design that connects data control-level networks with a device-level ...