How to choose this product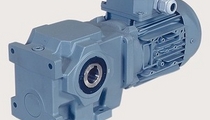 A gear motor combines a motor and a reduction gear. Most electric motors run at about 1500 RPM. A reduction gear can be used to reduce this speed. This also increases torque because torque and speed are inversely proportional.
Applications
Gear motors are used in varied applications throughout industry (conveyors, lifts, etc.), as well as in household appliances, which use mini gear motors.
Technologies
Motors can be AC, DC, synchronous, asynchronous, brushless or brushed. Gear train varieties include worm, beveled, helical and planetary.
How to choose
The three important criteria for choosing a gear motor are motor type, gear type and orientation of the input shaft with respect to the output shaft.