How to choose this product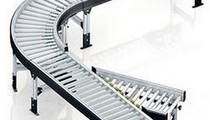 Roller conveyors consist of a series of rollers attached to a rigid, horizontal frame. Goods move over the top of the rollers from one point to another. Transported items generally have a flat base (pallets, containers, boxes, cartons). A choice between motorized and mechanical rollers is available. The application will determine the best configuration: gravity, curved or line shaft.
Applications
Roller conveyors are used for the transport or the collection of goods. These systems are generally used to move items with flat bases (pallets, containers, boxes, cartons), which slide more easily over rollers.
Technologies
These systems can be electrical or mechanical. The former may have a single motor or individual motors contained within the rollers.
How to choose
The choice of configuration depends on the area available, the application and possible motorization requirements.