How to choose this product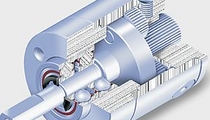 A planetary (or epicyclical) gearbox uses epicyclical gears for speed reduction. It is composed of one or more toothed wheels turning around a rotating shaft. Each rotates on its own axis as well as revolving around the central shaft. This provides great reduction capability in a small space, making them common in automatic transmissions.
Applications
These mechanisms are used wherever efficiency and high reduction ratios are needed in a small space. Examples are automatic transmissions and many industrial applications using electric gear motors.
How to choose
Choice will depend on the speed and torque of both the input and output shafts. These data will determine the gear ratio.
Advantages
- Reduced space requirement
- High gear ratios possible