How to choose this product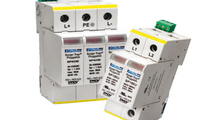 A surge arrester protects electrical circuits from excess voltage induced by lightning or switching surges. It behaves like an open circuit during normal operation and like a short circuit when lightning strikes. Generally, it is connected between each conductor and the ground contact downstream of the primary circuit breaker.
Applications
These devices are used in industry to protect electrical installations against voltage overload in electrical lines. Different models are designed to protect power circuits, photovoltaic installations, telephone circuits, computer buses or coaxial lines.
Technologies
Type 1 arresters protect line heads on exposed sites. They include a spark-gap, usually a gas model, and are designed for use with a lightning rod.

Type 2 units offer secondary protection of electrical grids using TT and TN-S grounding. They use varistors or transient voltage suppressor diodes. Detachable type 2 units permit maintenance of the circuit without interrupting service.

Type 3 arresters use primarily varistors for final protection in conjunction with the first two types.

Some arresters are available as DIN rail-mounted modules, as a box, a piggyback plug or an electronic component (spark-gap) for a circuit board.
How to choose
Choice will depend on the arrester's maximum voltage capacity, discharge capability and level of protection.