How to choose this product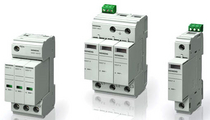 A surge protector shields electrical lines and equipment from switching surges and lightning. Installed between conductors and ground, it acts as a short circuit to redirect excess energy. It also may be called a lightning arrester.
Applications
These devices protect industrial electrical installations and interior electrical systems in homes and offices. They are placed at the distribution panel or plugged into individual outlets. Some models are designed specifically for use with photovoltaic or telephone circuitry, or computer networks.
Technologies
Surge protectors use spark gaps, varistors, TVS or zener diodes, or a combination. The spark gap comprises two electrodes separated by air or another gas. A surge creates a spark, which eliminates the induced voltage. A varistor is a non-linear resistance whose value drops drastically in case of a surge. TVS and zener diodes operate in similar manner, but more quickly.

There are three categories of surge protector. Type 1 uses a spark gap with a lightning rod. Type 2, equipped with a varistor or a diode, is usually found in home installations. Type 3 is a varistor used for supplementary final protection.
How to choose
Surge protectors are characterized by their discharge power in amperes and their maximum voltage capacity.