{{#pushedProductsPlacement4.length}} {{#each pushedProductsPlacement4}}

{{product.productLabel}}
{{product.model}}
{{#each product.specData:i}} {{name}}: {{value}} {{#i!=(product.specData.length-1)}}
{{/end}} {{/each}}
{{{product.idpText}}}
{{#if company.requestButtonsVisibility.requestButtonQuestion == "ACTIVE"}}
{{elseif company.requestButtonsVisibility.requestButtonWhereToBuy == "ACTIVE"}}
{{/if}}
{{#if product.innovationType}} {{else}} {{#if product.newProduct}} {{/if}} {{/if}} {{#if product.hasVideo}} {{/if}}
{{/each}} {{/pushedProductsPlacement4.length}}
{{#pushedProductsPlacement5.length}} {{#each pushedProductsPlacement5}}

{{product.productLabel}}
{{product.model}}
{{#each product.specData:i}} {{name}}: {{value}} {{#i!=(product.specData.length-1)}}
{{/end}} {{/each}}
{{{product.idpText}}}
{{#if company.requestButtonsVisibility.requestButtonQuestion == "ACTIVE"}}
{{elseif company.requestButtonsVisibility.requestButtonWhereToBuy == "ACTIVE"}}
{{/if}}
{{#if product.innovationType}} {{else}} {{#if product.newProduct}} {{/if}} {{/if}} {{#if product.hasVideo}} {{/if}}
{{/each}} {{/pushedProductsPlacement5.length}}

Re Controlli Industriali CPF sensor roller is useful in web processing for reading of web tension and constantly maintaining it. The CPF sensor roller provides a highly accurate detection of web tension. This is possible as the reading ...

The CP.35 series is Re's cantilever load cell line. Its specialized design demonstrates Re's experience in designing and manufacturing customized load cells to solve specific application problems.

tension load cell
CF series
Rated force: 50 N - 25000 N
The CF SERIES of flange load cells, frequently used on converting machines, are available in broad selection of models with loads ranging from 50-25000 N, and provides an output in voltage (mV) or current (420 mA). This CF series provides ...

tension load cell
CK series
CK Series is an alternative to the CF system. It is significant when necessary to be mounted through a shaft and when the available space between machine walls is reduced. Its available loads range from 250 to 30,000 N as well as use ...

tension load cell
CB Series
The base load cells are perfect for heavy-duty usage, as well as high web tensions like super calenders, rolling mills, etc. The cells have a load range of 150 to 30,000N. Voltage in mV or a current of 4-20m are both available as output ...

tension load cell
Model 31
Rated load: 50 lb - 10000 lb
Honeywell's Model 31 precision miniature load cells measure both tension and compression load forces of 50 grams to 10,000 lb. and are our highest accuracy, rugged miniature load cells. The welded, stainless steel construction of ...

fatigue-rated load cell
3140-CS Series
Rated load: 300 lb - 100000 lb
Honeywell Model 3140-CS tension/compression fatigue rated low profile load cell with base plate provides superior precision. The compact design offers a low profile stance for fatigue rated tension/compression and a safe overload capability ...

tension load cell
RM, RF, RH
Rated load: 2000 lb - 200000 lb
The rugged Honeywell Rod End In-line Tension Load Cells are manufactured out of welded stainless steel to work in both laboratory settings and field applications. They are intended for tension measurement and mounted inline to the ...

Rated load: 7.5 t - 15 t
With the Z16A tension load cell, HBM offers a unique solution for weighing suspended loads. Applications include gravimetric level measurements or batching with attached process containers. Made of stainless steel, the Z16A tension ...

tension load cell
5 - 200 klb | LC702, LC712 series
The LC702 and LC712 Series is comprised of high-capacity tension link load cells. These are made by Omega and are comprised entirely of stainless steel. An accuracy of approximately 0.15% is provided by these devices. They were designed ...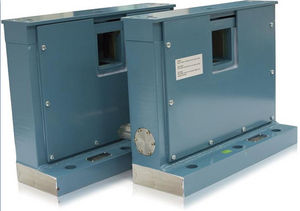 web tension load cell
PFBL 141
These strip tensiometer load cells can be used for various applications and come with a well-proven design that makes them able to accurately measure, even when used in severe environments. An example application is measuring in tandem ...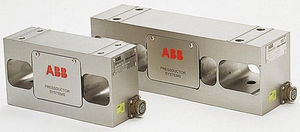 web tension load cell
PFTL 101
These horizontal load cells are ideal for various uses, including applications that are defined by low tension levels, along with high operating speeds and heavy rolls. These variables are very common in the paper industry, for example. There ...

The Type 8231 C provides measurements of dynamic, short-duration static and impact forces in applications having high tensile forces or excessive compressive forces. These are ideal for high-temperature applications like environmental ...

shear beam load cell
10 - 100 kN | ZL-03 series
The ZL-03 Series, engineered by Magtrol, is a shear beam load cell intended for wire rope tension applications. It makes use of a strain gauge technology that was elaborated to support the load for long term dynamic requirements. Moreover, ...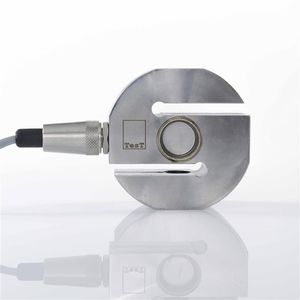 Rated load: 200 kg - 15000 kg
The 630 by Test GmbH is a Stainless steel tension/compression S beam load cell which is designed for operation that has a highest requirement especially in rough environments. For its transducers, it is made of stainless steel enabling ...

web tension load cell
FAS / FRAS
MEROBEL's EMP output shaft Brakes are compact and very easy to use for applying a variable torque to a rotational system. MEROBEL's EMP FAS - FRAS series are mostly dedicated to industrial applications such as wire and cable tension ...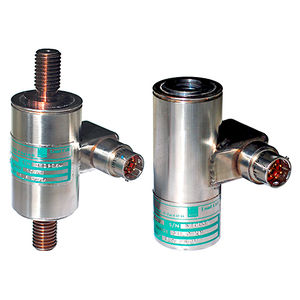 tension load cell
8508x series
Rated force: 0 kN - 1000 kN
Robust, precise, for static and dynamic measurements, welded construction, stainless steel, high protection class FEATURES Measuring ranges from 0 ... 10 kN to 0 ... 1 MN Non-linearity < 0.2 % F.S. For static and dynamic measurements Made ...

double-ended shear beam load cell
H9Z2
Rated load: 0.5 kg - 10 kg
Dual shear beam load cell Type H9Z2 can be used in special weighing systems Some applications are: Truck scales, track scales and other weighing devices suitable for measuring rope extension force Nominal Load: t: 0.5-1-1.5-2.5-5-10 MAIN ...

double-ended shear beam load cell
105 series
Rated load: 2 t - 40 t
The Type 105 double shear beams from Celmi are ideally used for application on crane weighing systems or whenever a load on a pin needs to be measured. These are for rope loads, belt tension identification, and the like. They are engineered ...

tension load cell
0- 1000 cN up to 0 - 20 daN
Stationary electronic tension sensor, single roller system, for mounting at an existing deflection pully For flexible material, as thin wires and ropes - Easy installation - Tension sensor with integrated measuring amplifier - Various ...

tension load cell
0 - 20 daN up to 0 - 100 daN
Stationary electronic tension sensor for measuring wires, ropes and cables up to 10 mm Ø Sensor with large guide rollers (60 mm Ø), minimizes material deflection Tension meter is available with digital output for data processing with ...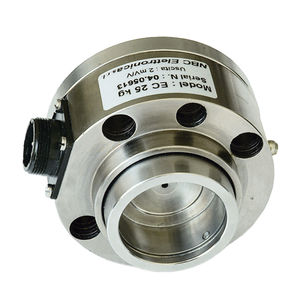 Rated load: 15 kg - 250 kg
The EC by NBC Elettronica Group Srl is a Load cell designed for web tension control. This equipment can be used with rolls enabling to produce a much reliable performance. Also, it is suggested that the load cell is installed at each ...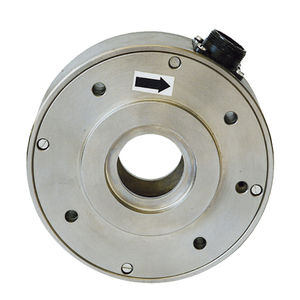 Rated load: 25 kg - 600 kg
The EP Series, manufactured by N.B.C. Elettronica Group, is a flange load cell equipped with a clearance hole to reach high load ranges. It has a compact structure, weight of 600 kg and protection class of IP 60. This load cell is used ...

tension load cell
SU RADIO
Rated load: 1000 kg - 6300 kg
The SU RADIO is suitable for the weighing of suspended contents. These loads are incorporated with electronics, that enable for the radio transmission to the hand receiver device. The RX DI02 or RX02 PORT both have transmission frequency ...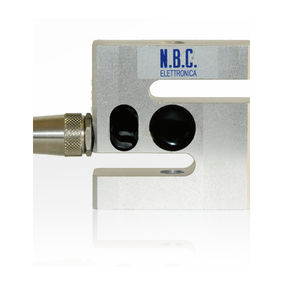 Rated load: 100 kg - 20000 kg
The ST Series, manufactured by N.B.C. Elettronica Group, is a stainless steel tension load cell equipped with an off-center load performance. It has a robust platform, compact structure, weight of 20,000 kg, and protection class of IP ...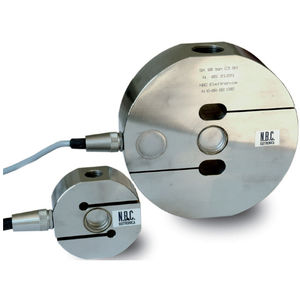 Rated load: 150 kg - 15000 kg
The SX Tension module from NBC Elettronic Group are ideally used for applications that are concerned with harmful and hostile environments. These are typically applied for batching operations for industrial products, hopper weighing ...

Rated load: 0.1 kg - 50 kg
The 1531 model is manufactured by BMC Sensor, and is a ceramic tension force transducer that is produced by thick film technology. It has a single bending beam of piezo-resistive working principle, and has low profile with wide range ...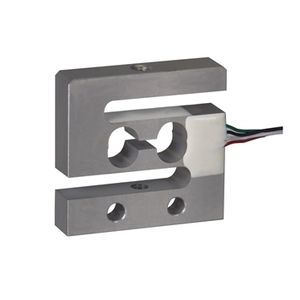 weighing load cell
LAS-A/C3/IP65
Rated load: 2 kg - 100 kg
Description LCT S-type Load Cells have been designed for measuring static and dynamic tensile and compressive forces. Advantages of LCT S-type Load Cells: Quick to install thanks to off-center load compensation at the factory (per ...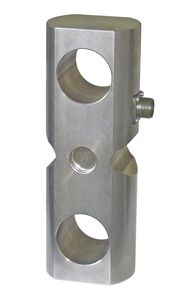 tension load cell
TBT series
Rated load: 30000 kg - 250000 kg
The TBT series, manufactured by Laumas, is a tension load cell. The series is constructed with 17-4PH stainless steel, and is designed with holes for shackles linkage. The combined error of the series is < +/- 0.08%. The series is protected by IP68.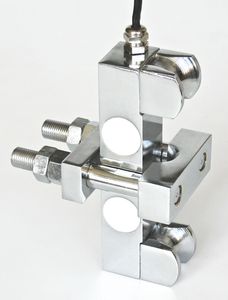 shear beam load cell
FUN series
Rated load: 2000 kg - 40000 kg
The FUN series is a shear beam load cell for wire rope tension manufactured by Laumas®. It is constructed with steel and offers an IP 67 level of protection. This device gives a switching accuracy rate of +/- 2 % on full scale. In addition ...

tension load cell
TCC series
Rated load: 10000 kg - 50000 kg
The TCC series tension load cell, manufactured by Ados, is generally constructed using stainless steel AISI630(17-4-PH). Furthermore, through its hermetically-welded seal, this equipment is classified under protection class IP67. In ...

compression load cell
SFA2946

tension load cell
1 - 10 T, max. 30 m, 2.4 GHz | WLS-LC series
The wireless Load Sensor represents a strain gauge based stainless steel tension type sensor. The specially designed sensor device offers wireless transmission of data to compatible readouts and displays or records its data locally. ...

The LoadSense Cabin Display is a small, lightweight, cabin / window mounted unit which is used in conjunction with our LoadSense Wireless Load Sensors to display the reading from the load sensor. Our range of Load Sensors up to 25 tonnes ...

tension load cell
max. 10 T, 30 m, 2.4 GHz | HLM-LC series
The HeliNav LoadMaster load sensor is known for its resistant stainless steel construction, which comes with the capacity of transmitting data of the compatible readouts wirelessly, displaying and recording the data internally. In addition ...

tension load cell
max. 100 t, IP66 | 5100L, 5105L
The SENSY's load cell 5100L and 5105L are available in a wide range of capacities that range from 2 t to 100 t. These cells are durable and very rugged. The devices can also be easily installed. These offer a protection level of IP 66 ...

tension load cell
max. 500 kN, IP66 | 5205
The SENSY's load cell 5205 is a tension force transducer. It comes in capacities of up to 500 kN. The device is available in stainless steel as well as in nickel plated steel. It offers IP 66 class of protection. It is ATEX Ex ia IIC ...

tension load cell
max. 25 t, IP66 | 5205L
The Sensys 5205L is a tension load cell that limits loads on hoisting devices. The cell has a robust design capable of more than 500 % breaking load. It is made of nickel plated steel materials and it can be easily installed. Accessories ...

tension load cell
max. 24 t, IP65 | 5500
The Wire Rope Load Cell is specifically designed to provide an excellent quality performance and functionality for very specific purposes. It is built with a sturdy design and a nickel plated steel material which prevents the device ...

web tension load cell
25, 50, 100 kg | RS series
The RS series is a device that is designed and manufactured by Pulse Electronics company. The unit's load cells are developed for the control of reel tension for both winding and unwinding system. The force shows that the applied reel ...