How to choose this product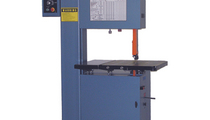 A band saw is one whose blade is a toothed band driven by two wheels, which keeps it at an appropriate temperature. In addition, it can be lubricated during the entire cutting process.
Technologies
The various configurations include horizontal band saws, whose horizontal blade moves with respect to the material to be cut. The horizontal blade of a dual-column band saw moves up and down on the two vertical supports. The pendulum band saw has a blade mounted on a pivot. Single-column band saw blades have a pivot point like the pendulum version, but can move vertically along the column. The vertical band saw has a blade which cuts vertically, remaining in place as the workpiece is moved into it. The miter band saw makes angled cuts.
How to choose
As with any saw, the type material to be cut, its thickness and the type of cut must all be considered.
Advantages
- Precise cutting
- Limited heating