How to choose this product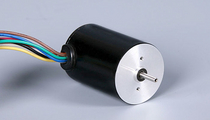 A brushless motor contains the same elements as any DC motor, with the exception of the commutator. However, the location of the windings and the magnets is reversed. The rotor consists of one or more permanent magnets; the stator has several windings. The controller (replacing the commutator of a brushed motor) can also be part of a feedback system.
Applications
Since they tend to overheat less than other types, these motors are used in computers and other applications where this could be a problem.
Technologies
There are three different types of brushless motor:
- Outrunner, or external rotor models, have a rotor turning around the stator, providing high torque at low speeds.
- Inrunner motors furnish less torque but can operate at much higher speeds.
- Flat or axial flux versions use stator and rotor plates mounted face-to-face. Its only advantage is compactness.
Advantages
- Less chance of overheating
- Silent, with little vibration
- Spark-free
- Feedback control options
Disadvantages
- Expensive and complex due to controlers