How to choose this product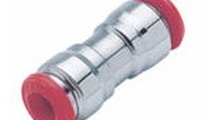 A push-in fitting is designed to join two pipes rapidly and securely. While connection is easy, disassembly is not, in contrast to a quick coupling.
Applications
These devices are extremely common throughout industry, including offshore settings, construction, aeronautics and automotive work.
Technologies
Such fittings use silicone-free O-rings. Their tapered threads are coated with a synthetic, anti-leak substance. Most such fittings have a hexagonal internal cross-section to facilitate assembly.
How to choose
Choice of push-in fitting will depend on:
- flow rate
- the number of piping circuits and the internal diameter of each
- the nature, temperature and pressure of the fluid
Advantages
- Rapid assembly
- Sturdy
- Secure connection
- Corrosion-resistant