How to choose this product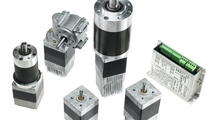 A brushless DC motor runs on direct current and does not use brushes to energize the rotor, which has permanent magnets. Stator excitation is synchronized with rotor position via sensors and dedicated electronics.
Applications
These motors are used with a controller as positioning servomotors, in machine tools and robotics, for pumps and medical devices. They are also found in computer micro-ventilators and hard drives. Powerful versions propel electric vehicles.
Technologies
The durability, efficiency, internal protection and EMC characteristics of such motors are superior to those of brushed types. They are also quieter.

Their electronics can control torque or speed. When used for positioning, they can be equipped with an electric brake. Electronics control the synchronization of rotor movement and stator winding energizing signals. Rotor position is determined by Hall-effect sensors or analysis of induced voltage in a non-energized winding.

DC brushless motors have an internal (inrunner) or external (outrunner) rotor. The former provides more torque, while the latter is faster.
How to choose
Choice will depend on required torque and speed characteristics. A model with an electric brake should be considered for position control applications.
Advantages
- Silent and durable
- Servomotor capabilities
- Internal protection
- Good EMC characteristics